Photographer's Legal Forms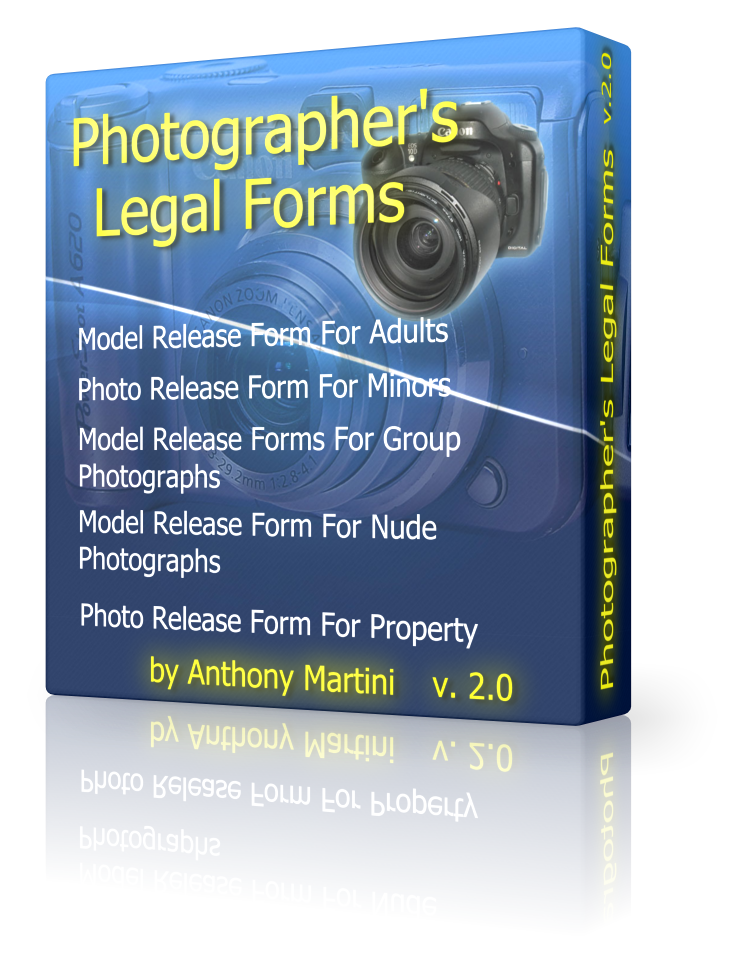 "Photographer's Legal Forms" v.2.0 is an eBook written
by Anthony Martini.
You get Legal Forms For:
Model Release Form For Adults.
Photo Release Form For Minors.
Model Release Forms For Group Photographs.
Model Release Form For Nude Photographs.
Photo Release Form For Property.
Did you know that over 90% of all Photographers do NOT have the Legal Forms that is required by Law. 
Once in awhile you get the Prize Winning Photo but you cannot use it because you did not have a Legal Form Release signed.
I was a Professional Photographer for over 30 Years and I always used these forms. When I had a Prize Winning Photo it was published years ago because I had a Legal Release Form.
Actually, many wedding photographers cannot post photos of a Couple in a magazine or on their website without a Release Form.
Many Photographers world wide are unaware of the Legal consequences of not having a Release Form signed by the person in the photo.

Get Your Legal Forms Now.
Why spend thousands of dollars on an Attorney if you have the best legal release forms available to you
  Regular Price: $99.95 
NEW YEAR'S SPECIAL - ONLY $2.50
This is cheaper then paying an Attorney!
These Legal Forms are for Photographers From Around The World! 
Your Photographer's Legal Forms for ONLY $5.00
 Instant Download After Payment Is Made!
BUY
 "Photographer's Legal Forms" v.2.0
and protect your rights as a Photographer.
NO Resale Rights: